Монгол Улсад зорчих виз мэдүүлэх тухай
---
Foreign nationals who wish to enter or stay in Mongolia must obtain visas of appropriate classification corresponding to the purpose of their visit. Nationals of those countries which have visa exemption agreements with Mongolia are exempted from visa requirements to the extent allowed by such agreements on reciprocal basis. For more information, please see "LIST OF VISA FREE COUNTRIES". 
List of visa free countries
---
General supporting documents:
1. Completed application form
5. 
Visa permission
 by the Immigration Agency of Mongolia (more information from 
immigration.gov.mn
)
Note: Applications can not be submitted by mail.
---
Tourist visa
In the beginning of 2022 the Government of Mongolia has launched the Electronic Visa Appliacation System. 
www.evisa.mn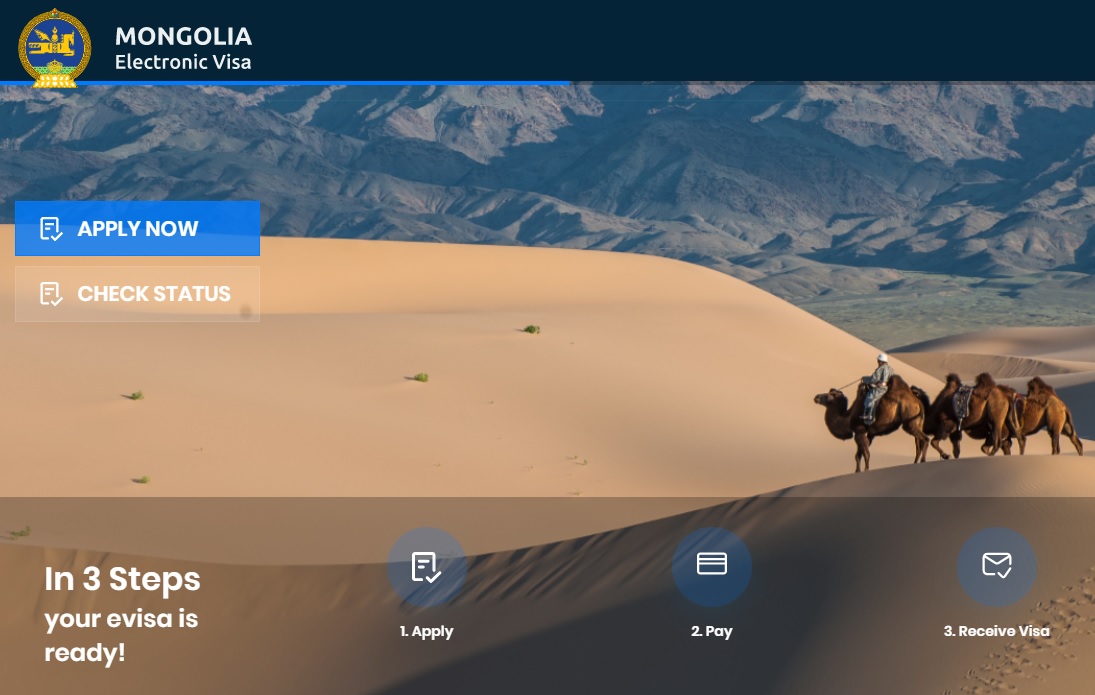 To obtain a tourist visa by Embassy the required documents should be submitted to the Consular section (Consulate)
1. Completed application form
5. Confirmation of payment (Visa fees only by bank transfer) - Before paying the visa fee, please make sure that you have all the required and supporting documents.
Entry and exit
Private visits and tourist travel visa has a validity, in the invitation and confirmation of the Mongolian legal person or company is established.

The processing time is usually 5 days. In the tourist season, it may take up to 7 days.
The passports with a visa by the Embassy must be picked up.
Mongolian tourist visa is normally valid for 5 months and can be with stay of duration up to 30 days.
Please note that the validity of a visa starts from the date of issue and not the date of travel and even if the visa is valid for 5 months, it doesnt mean you can stay in Mongolia 5 months.
TRANSIT
For the issuance of transit visas are the same documents as for the entry and exit are required.
Moreover, it is determined that the visa of destination country (China or Russia), which, following the visit Mongolia is already issued.
A transit visa entitles only a transit for up to 5 days.
Entry-Exit visa for more than 30 days and longer time
Generally, a visa for more than 30 days (double or multi entry-exit) will be issued but only 
with a permission
 from Mongolian authorities (Ministry of Foreign Affairs of Mongolia, 
Immigration Agency of Mongolia
).
---
Please note that visa service fees vary slightly depending on the average exchange rate of the Euro against the U.S. dollar from the previous month
Current exchange rate for consular service: 1.00 USD= 1.00 EUR
(source: Mongol Bank)
Current Rate Valid Through:  28/02/2023
Visa type

Entries

U.S. dollar

Euro

Entry Visa

Single

50 USD

50,00 EUR

Double

65 USD

65,00 EUR

Transit Visa

Single

25 USD

25,00 EUR

Double

50 USD

50,00 EUR

Multiple

75 USD

75,00 EUR

Multiple Visa

For six month

105 USD

105,00 EUR

For one year

205 USD

205,00 EUR
Монгол Улсын харьяатаас гарч гадаад улсын харьяат болсон гадаадын иргэн виз мэдүүлэхдээ Монгол Улсын харьяатаас гарсан тухай Ерөнхийлөгчийн Зарлиг буюу харьяатаас гарсан тухай тодорхойлолт хавсаргана.
Монгол Улсын иргэний гадаад улсын харьяатаар төрсөн 18 хүртэлх насны хүүхэд, МУ-ын харьяатаас гарсан гадаад улсын иргэд визийн хураамжаас чөлөөлөгдөх ба хүүхдийн хувьд тухайн Монгол Улсын иргэн эцэг/эхийн Монгол Улсын иргэний бичиг баримтын хуулбар, хүүхдийн төрсний гэрчилгээний хуулбар, гадаад эцэг/эхийн зөвшөөрөл тус тус шаардлагатай.
Beneficiary
Bank Austria Creditanstalt
BLZ.: 12000
EURO-Kontonr.: 50900 755901
IBAN = AT59 1200 0509 0075 5901
BIC = BKAUATWW
Receiver: Embassy of Mongolia
Reference: Visa fee, Name
Opening hours of the consular section are: Monday-Friday from 9:00 to 12:00 am, 14:00-17:00 pm.
Please note that the opening hours might be differ on Mongolian national holidays.
Telephone: Consular section +43-1-535 28 07 (15)